End-stage heart disease presents unique challenges for patients and their families. Because congestive heart failure patients experience a wide range of symptoms, hospice care focused on this disease includes services tailored to the individual patient.
Three Oaks Hospice works with patients and caregivers to help manage symptoms and maintain a high quality of life during the end stages of heart disease. For patients with end-stage heart failure, care might include pain management, efforts to relieve specific symptoms, spiritual and emotional support, assistance with tasks of everyday living and management of co-occurring conditions.
When to Consider Hospice Care for a Congestive Heart Failure Patient
A doctor often recommends hospice when a heart failure patient has no further available treatment options or is suffering from symptoms that make further treatment undesirable. Families can also request a hospice evaluation from a doctor if the symptom burden has become unmanageable.
Preparing early can ensure your loved one receives the best possible care at the necessary time. Our care is meant to supplement the care provided by family members and doctors, and earlier hospice referrals can help everyone coordinate care over time for better symptom management. Patient and family satisfaction generally improves the earlier hospice care begins.
Some patients and families may be reluctant to discuss hospice before the fact, but education can help families make the best decision about when to enter into hospice. Some things to consider when discussing hospice services with a loved one who's been diagnosed with heart failure include:
Patient preferences with regard to living arrangements during the end stages of the disease
What types of symptom and pain management the patient wants to pursue after treatment ends
Care plans for the seriously ill family member, including who takes on the duties of primary caregiver and what financial support is available for care
Fill out below to receive an informational diagnosis guide
Eligibility for Hospice Services for Heart Disease
The main hospice eligibility criterion is a diagnosis of six months or less of life. Some other signs that hospice care may be warranted include frequent episodes of chest pain, abnormal heart function as diagnosed by a physician and functional decline over time. A cardiac specialist can consider possible clinical outcomes and make a life expectancy assessment to recommend hospice care as the end of life approaches.
Hospice is intended for patients who've stopped curative treatment for cardiac disease. In some cases, the patient is no longer a candidate for further treatment. Other patients may opt-out of further medical treatment for advanced congestive heart failure for personal reasons. If treatment is still ongoing, palliative care may be another option. Hospice enrollment is a coordinated decision between patients, their family members and the cardiac care team.
Characteristics of patients with end-stage heart disease include:
Some patients experience comorbid conditions that occur alongside chronic heart failure. These conditions may increase the likelihood of a hospice referral after a heart attack or cardiac disease diagnosis. A history of cardiac arrest or syncope could indicate the patient is in end-stage cardiac failure.
Other common comorbid conditions include:
Hypertension

Coronary artery disease

Diabetes

Myocardial infarction

Valvular heart disease

Stroke

Cardiogenic brain embolism

The presence of other diseases, such as cancer, HIV, dementia, COPD, renal failure or liver failure
Three Oaks Hospice Locations
Three Oaks Hospice has locations across the U.S., ensuring that caring, compassionate hospice and palliative care are available to patients where they live. Three Oak Hospice provides on-site care in the home or where the patient calls home, whether that's in their residence, a family member's, or in a medical facility.
Where Heart Failure Patients Can Access End-of-Life Care
Three Oaks provides hospice and palliative care services wherever a patient calls home. This could be at the patient's residence, at the home of a family member or in an assisted living community where the patient resides. Short-term hospice or palliative care may also be available during a temporary hospital stay.
Since end-of-life comfort is part of the goal of hospice, the idea is to keep the patient in a familiar environment where the hospice professionals and family caregiver can manage significant symptoms. Remaining at home is often a primary concern of patients with a life-limiting illness, so this is taken into consideration when planning where to carry out services.
The hospice care team is made up of multiple care providers who visit the patient on a prearranged schedule. Your team may include nurses, social workers, physical or occupational therapists, counselors, volunteers and clergy members.
Benefits of Hospice Care for Patients and Family Caregivers
Our hospice care staff works with cardiac patients and their families to develop an individualized plan that addresses the patient's specific symptoms and abilities.
Some of the symptoms heart failure patients often experience include:
Depending on the health status of the patient, hospice for seriously ill patients diagnosed with heart failure can include a variety of services.
Pain and symptom management
Managing pain and symptoms helps hospice patients maintain their normal activities for as long as possible and reduces the likelihood of future hospital admissions. Some patients with heart failure experience significant symptoms that get worse over time, while others may have symptoms that come and go. The goal of managing symptoms in hospice is to improve the quality of life and ensure patient comfort, so caregivers and hospice team members monitor symptoms and adjust pain relief or other treatments as needed.
Coordinated, individualized care
The Three Oaks hospice and palliative care team works with the patient's cardiologist to develop a comprehensive medical care plan. One-on-one support ensures each member of the care team gets to know the patient well and can provide individualized care. We'll also provide any necessary medical equipment related to the illness and the required supplies for effective in-home care.
Emotional and spiritual support
The hospice team includes counselors and clergy to help patients and families deal with their emotional and spiritual needs during a serious illness and at the end of life.
Caregiver education
Hospice care providers are there for families who need more information about providing care for their loved one. Caregiver education includes resources for learning more about the patient's illness as well as advice on how to manage symptoms and operate necessary medical equipment.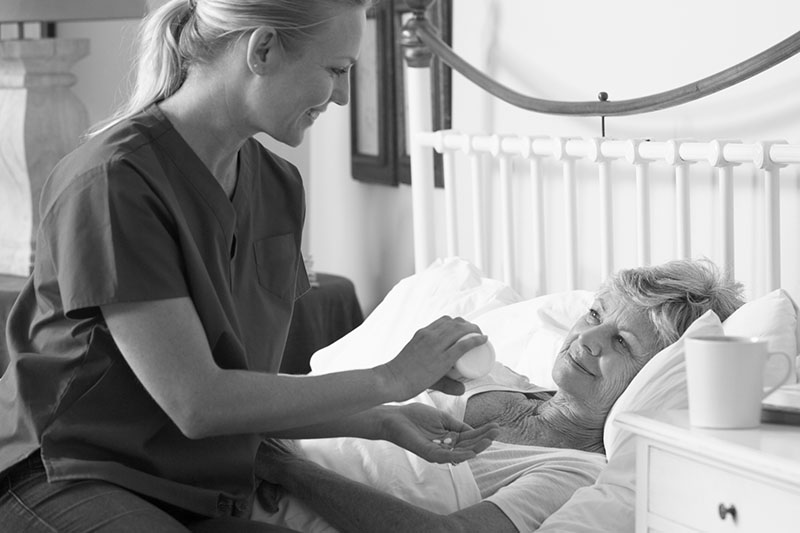 Respite care
Respite care is a type of temporary full-time care provided on a short-term basis to give regular caretakers a break. This type of temporary hospice or palliative care can reduce the risk of burnout.
Access to 24-hour care
End-of-life care through hospice enrollment is covered by Medicare, Medicaid and many private insurance plans. The hospice team includes people who can help find additional financial assistance if required and can assist with the required paperwork to handle insurance claims, funeral arrangements and medical directives.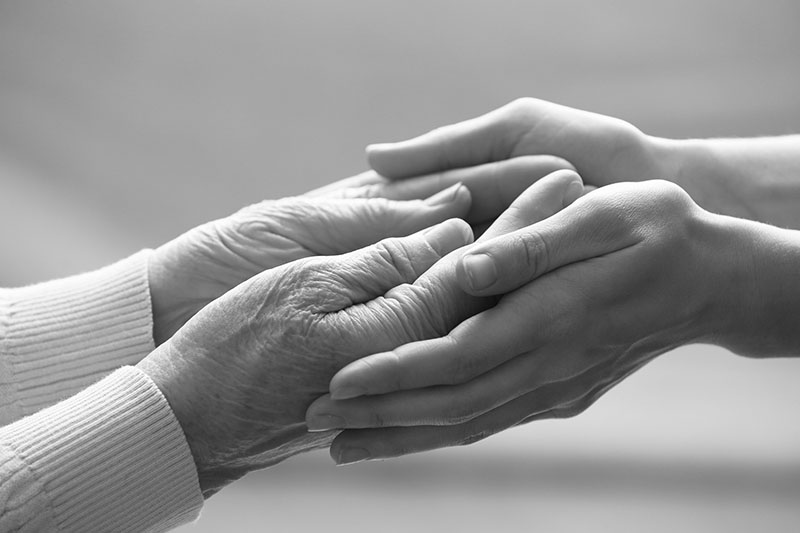 Bereavement services
After the death of a hospice patient with heart failure, family members can receive up to 13 months of bereavement counseling from Three Oaks Hospice if desired.