Patients diagnosed with chronic obstructive pulmonary disease and other lung diseases have unique needs, making at-home caregiving efforts a challenge. Hospice care services help ease the burden of caregiving by providing specialized support that takes into account the needs of COPD patients. Three Oaks Hospice provides compassionate care focused on the individual patient.
When to Consider Hospice Care for COPD Patients
While a doctor may recommend hospice care for a patient with severe chronic lung disease or end-stage COPD, families may want to consider their options earlier. Planning early can make the transition to hospice care easier.
Hospice care doesn't just involve managing symptoms. It also includes assistance with everyday tasks, emotional support and companionship. The hospice team can help monitor disease progression and adjust care as the patient nears the end of life. For patients with advanced illness, this might include arranging and managing supplemental oxygen therapy and monitoring the patient for respiratory failure, lung infections or disabling dyspnea.
Fill out below to receive an informational diagnosis guide
Hospice Eligibility Criteria for COPD and Lung Disease
Hospice may be appropriate for patients with a variety of severe lung diseases, including chronic obstructive pulmonary disease, cystic fibrosis, pulmonary fibrosis, chronic asthma, bronchiectasis, chronic bronchitis, emphysema and end-stage tuberculosis.
Eligibility for hospice care requires a diagnosis of 6 months or less of life. Only a doctor can make the determination of life expectancy, though this is typically based on factors such as the patient's decreased functional capacity and a decision to stop curative treatment or intubation. Once a doctor makes an official hospice referral, the patient can schedule an appointment to determine the specific hospice services they need.
Some specific criteria for recommending a patient to hospice care include:
Reduced or limited physical response to bronchodilator therapy
Experiencing dyspnea while at rest or during minimal activity, even while on oxygen therapy
Frequent or repeated hospitalizations for symptoms of lung disease, including respiratory infections or respiratory failure
Loss of more than 10% of body weight over six months or less
Recurrent pneumonia or bronchitis
Difficulty performing daily activities of living
Reduced activity to the point of spending most days at home
Clinical lab tests can also help a physician decide when a hospice referral is warranted. Some criteria that could affect the patient's diagnosis include an oxygen saturation level of less than 88%, a heart rate of more than 100 beats per minute and a forced expiratory volume of less than 30% after using a bronchodilator.
In some cases, patients with end-stage COPD may have additional health issues that affect hospice eligibility and complicate care. Co-occurring conditions such as heart disease, cancer or another serious illness can be addressed alongside end-stage pulmonary disease. The individualized approach of hospice care lets the care team identify the patient's needs and create a care plan that manages symptoms of multiple illnesses at once.
Accessing Hospice and Palliative Care at Home
The main goal of hospice and palliative care is to make the patient as comfortable as possible during the final stages of COPD or advanced lung disease. Patient care takes place wherever the patient resides. This could be at the patient's home, a relative's home or an assisted living facility. Receiving care in a familiar setting is a goal of many patients, and your hospice provider can help you achieve this goal. Hospice care may also be available during a temporary inpatient hospital stay.
Three Oaks Hospice Locations
Three Oaks Hospice has locations across the U.S., ensuring that caring, compassionate hospice and palliative care are available to patients where they live. Three Oak Hospice provides on-site care in the home or where the patient calls home, whether that's in their residence, a family member's, or in a medical facility.
How Patients With Chronic Obstructive Pulmonary Disease Benefit From Hospice
Patients with end-stage COPD or chronic lung disease who've opted to halt curative treatment may benefit from hospice services designed to help ease symptoms and maintain quality of life.
Benefits of Hospice Care for Families
Caring for a patient with COPD can be difficult, and family caregivers often turn to hospice services to help keep their loved one comfortable during the end stages of lung disease.
No matter the patient's functional status, supportive care can help ease the burden on family caregivers and let family members spend more quality time with their loved one during the end of life.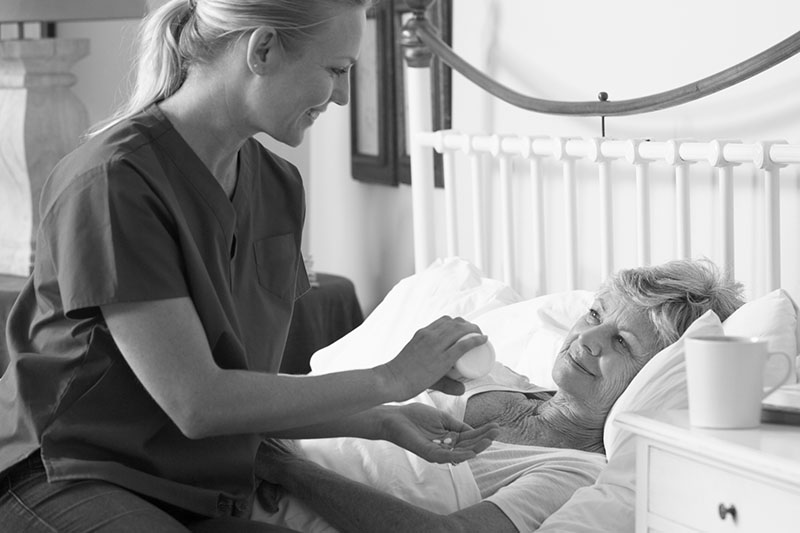 Caregiver Education
Some family caregivers may be uncertain how to care for a patient with severe COPD. Caregiver education provided by the hospice or palliative care team can help family members learn how to manage symptoms of a patient with advanced lung disease and provide effective end-of-life care.
Respite Care
Respite care is temporary hospice or palliative care designed to give the primary caregiver a short break. Scheduling respite care can help keep family members from experiencing burnout and let them take care of other pressing issues.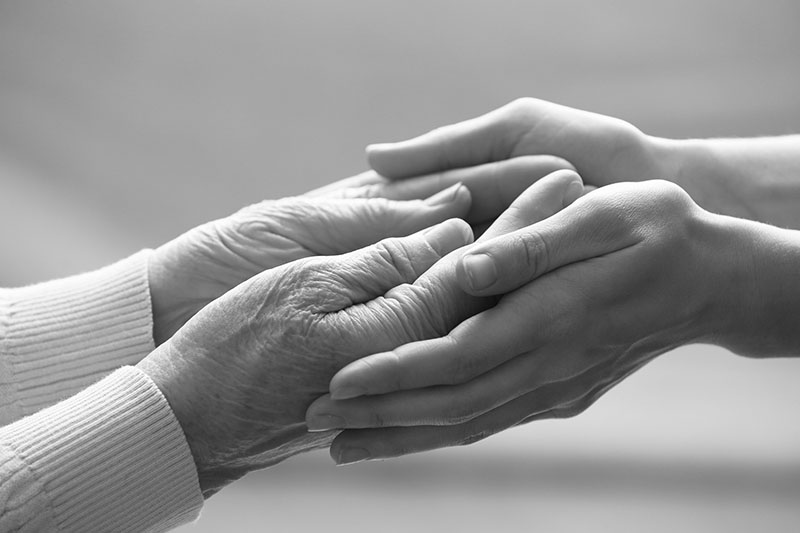 Bereavement Support
At Three Oaks Hospice, family members receive up to 13 months of bereavement counseling after the death of a hospice patient. Spiritual and emotional support for family members are also available before the patient's death.
Organizational Management
The social worker assigned to the hospice care team can help families navigate everything from advance care planning to funeral arrangements. Medical insurance paperwork is another area where social workers can provide assistance. Medicaid, Medicare and many private health insurers provide coverage for hospice services, and the social worker on your care team can help you access this coverage.
Peace of Mind
Knowing your loved one is receiving the best possible end-of-life care even when you aren't present offers peace of mind.